This year will mark the 50-year golden anniversary of the "Nixon Shock," when the world's reserve currency was last partially tethered to gold. It seems an apt time to reflect on where we stand on the gold trade. Considering the exponential leveraging of the U.S. dollar reserve system, which has occurred since 1971, it is not surprising that equities, bonds and real estate have fared well. And yet, as Figure 1 demonstrates, as a currency, gold has trounced fiat paper most of the time while as an asset class (Figure 2), it has held its own — not bad considering the other side had several free "get out of jail" cards.
Figure 1. Purchasing Power of Main Currencies Valued in Gold (Log Scale: 1971-2021)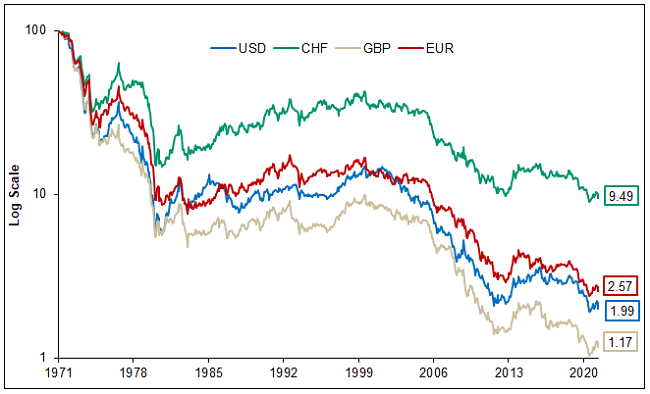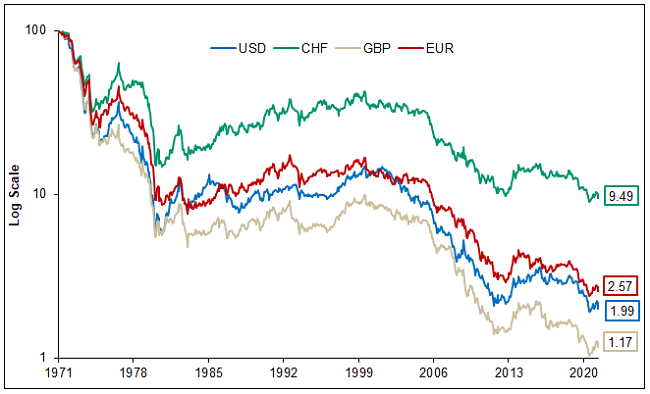 Source: Bloomberg. Data as of 5/31/2021. Reuters Eikon, Nick Laird, goldchartsus.com, Incrementum AG. CHF is the Swiss Franc; EUR is the Euro; USD is the U.S. Dollar: GBP is the British Pound Sterling. Past performance is no guarantee of future results.
Figure 2. Gold's Long-Term Outperformance vs. Stocks, Bonds, USD (2000-2021)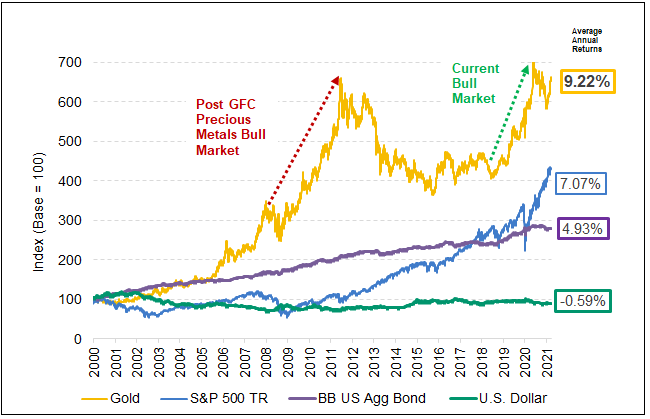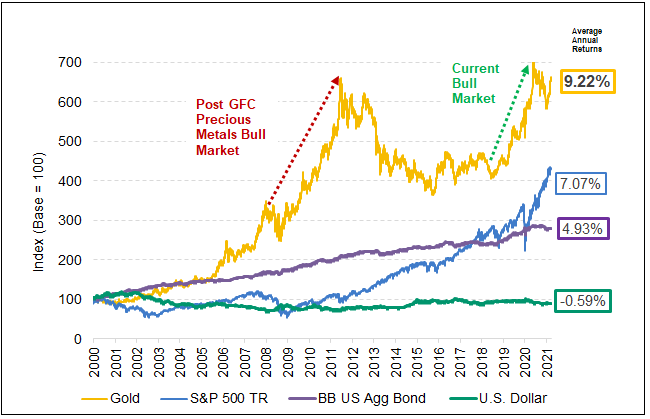 Source: Bloomberg. Period from 12/31/1999-05/31/2021. Gold is measured by GOLDS Comdty Spot Price; S&P 500 TR is measured by the SPX; US Agg Bond Index is measured by the Bloomberg Barclays US Agg Total Return Value Unhedged USD (LBUSTRUU Index); and the U.S. Dollar is measured by DXY Curncy. Past performance is no guarantee of future results. For illustrative purposes only.
We also take time to reflect on how Sprott as a firm is positioned. Even with the contrarian gene in our DNA, it is hard to envision a more polarized dynamic. The financial markets have become increasingly correlated to a positive conclusion to the monetary experiments of the day, while we have a high degree of conviction in our counter-trend posture.
My role at Sprott is not to act as chief prognosticator, but after 35 years in the gold trade and with the benefit of a team of experts, I feel qualified to state that today's environment offers a stellar opportunity to gold investors. Several simultaneous winds of change are in the air; the "this-time-for-real emergence of inflation," the perception of central bank omnipotence and a potential apex of the pendulum swings in equity and credit markets. Add to that upcoming structural changes in the gold market, we believe that these coincidental turning points will validate that "All Things Sprott" are on the right track.
Gold Update
It was natural that gold experienced a pullback over the first four months of 2021 as investors focused on the economic rebound made possible by COVID-19 vaccinations. Risk appetites and yields rose, further rate hikes were built-in and the U.S. dollar initially strengthened. We were comforted that solid support for gold emerged at $1,700 and its sentiment indicators, notably our Sprott Gold Bullion Sentiment Index (see Figure 3), the Bernstein DSI and the Hulbert Gold Newsletter Sentiment Index, all posted near-record lows around the same time.
Figure 3. Sprott Gold Bullion Sentiment Index (2014-2021)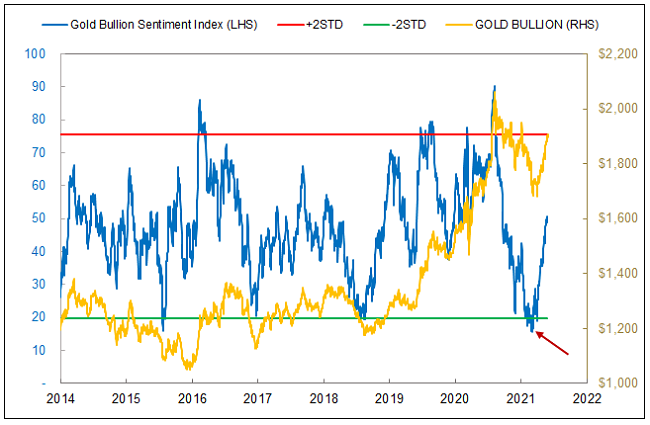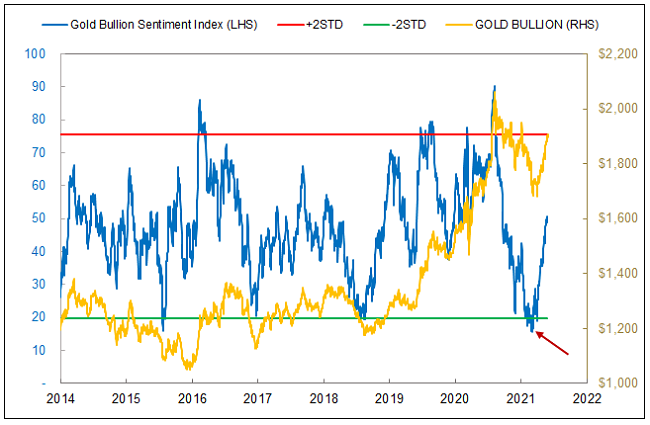 Source: Sprott Asset Management LP. Data as of May 31, 2021. For illustrative purposes only.
The longer-term indicators for gold are in great shape. The systematic risks associated with high debt levels in every sector are growing. Equity markets are priced for perfection. The U.S. budget and trade deficits are at record highs as a percentage of GDP (see Figure 4), while its major international partners continue to move towards de-dollarization. The financial markets have spent 10 years building their foundations for an increasingly levered, low-interest rate and low-volatility world. Are we at the point at which the spring has absorbed maximum tension before release?
Figure 4. U.S. Federal Budget as Percent of U.S. GDP (1969-2021)

Source: Bloomberg. Data as of May 31, 2021. For illustrative purposes only.
Figure 5. U.S. M2 Money Supply vs. Gold Price (1971-2021)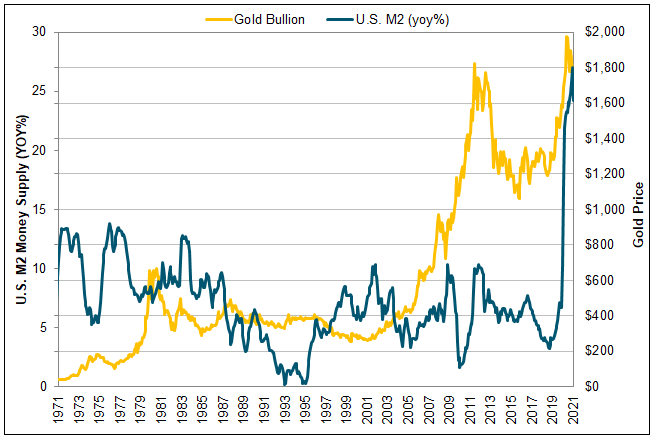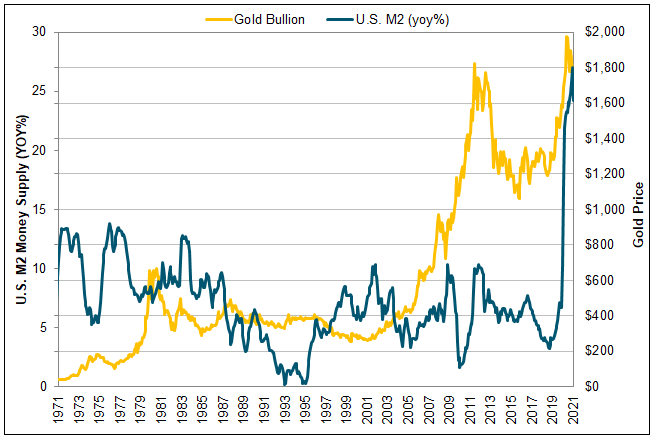 Source: Bloomberg. Data as of May 31, 2021. For illustrative purposes only.
The Inflation Question
In a recent conversation with John Hathaway, our gold equities Senior Portfolio Manager and strategist, we agreed that despite persistent deflationary forces, the timing was right for inflation to take the upper hand. Previously, with slack in the labor force, idled capacity in many industries, a deceleration of the velocity of money and an increase in the savings rate, the equation was at equilibrium. We concur that the recent boom in commodity inputs may be an overshoot. In the long term, we think the existing deflationary forces will be overpowered by fiat currency debasement, driven by skyrocketing debt balances and money supply, while real interest rates are held in negative territory.
There are only three ways out of the debt bubble now gripping government finance: 1) default; 2) financial repression over decades; or 3) hyperinflation. Does anyone care that these end games are now mathematical certainties? Not yet, it seems. With control over their currencies, we do not believe there is any appetite for or chance of default among the G7 (Group of 7 developed Democracies). Monetary and fiscal tools have been homogenized and vastly expanded by political agendas. Excessive money supply growth, constant support for Treasury and mortgage bonds (and many other markets), and runaway government deficits have all become common and aggressive addictions. Those who aspire to moderation are likely to be disappointed.
We all know that government calculation
s of inflation are flawed and driven by a major conflict of interest. For those seeking anecdotal evidence of a real inflation rate, consider the price gains in financial or real estate assets, surging transportations costs, recent earnings reports from global companies or the price action in large global commodity markets. There are lasting COVID-19 impacts to supply and trade chains, and consensus among corporates that price increases can be pursued. We would be surprised if the current annualized rate of inflation was not over 5%, and note that John Williams ShadowStats is currently showing an 8-10 % range, either of which would signify a shocking plunge in real rates. Even if current fears abate, inflation is a collective mindset reflecting the degree of belief in sound money versus the cost of living. How can the Federal Reserve (the "Fed") know if its attempt at annual inflation targeting can be contained at 2%, or that existing inflation is transitory? Gold offers one way to hedge their bet.
Taper Talk
We have received inquiries from clients concerned about the effect of tapering (i.e., the Fed pulling back on bond buying, also referred to as "quantitative easing") on the gold price. We are not concerned for several reasons. First, we believe the removal of support is most likely in mortgage-backed securities, which have fueled today's red-hot housing markets. The main impact of this would be to raise credit spreads and reduce risk-taking appetite, which should be positive for gold.
As happy as we are with the ongoing recovery from COVID-19, its long-term economic and financial impacts will continue to extract a heavy cost. We note the reluctance of workers to return to work absent substantial wage increases, the reliance on what may now become more permanent Universal Basic Income (UBI) programs, and structural changes in the real estate markets, etc.
Tapering will face limits due to the increasing relationship between government bond markets and the global economy. U.S. government involvement in the economy now sits at over 20% of GDP. Even with the introduction of market-negative tax increases and the rosy economic forecasts from the CBO (Congressional Budget Office), the receipts/expenditure balances of the U.S. government are so negative that huge deficits will need to be financed indefinitely. The additional funding required for the contemplated infrastructure programs will exacerbate the funding gap. We believe the additional interest service costs of a…


Read More: Golden Anniversary Reflections | ETF Trends